I had never even heard of a triple wedding until Mr. Neely brought it up when he asked if I could help with the photography for his three daughter's weddings. Of course, I was up for the challenge! But, it wasn't something I could do alone.
So, I started pulling together a team. Mary from Harrisonburg, VA, readily agreed to take on the role of key photographer with her husband and assistant photographer, Ben. Katie, long-time friend and portrait photographer from Suffolk, VA, was happy to jump in and help fill in where needed. Zyrek, fellow photography educator and Lightroom guru from Indianapolis, IN, agreed to tackle the monumental photo editing side of things. And David, master designer and selfless friend from Nashville, TN, volunteered to finish manning the Lenspiration booth at the TTD homeschool convention there so I could break away and head down to the wedding to work as a second shooter!
It truly is amazing how God worked everything out.
So, here are some of the photos from the wedding that you all have been patiently waiting for.
Before sunrise, folks were arriving at the church. We did first looks first, all at the same time, with a different photographer assigned to each couple. My couple was Daniel & Jessica.
Next we gathered in the auditorium for the family groupings. To get the right groupings with the right people in a crazy short amount of time was one logistical feat. But Mary had scripted it all out ahead of time, and we did what we could to stick to it. Mary had set up two photo stations, complete with flashes and diffusers, in the auditorium. She and Ben were at one station photographing the family groups with the brides and bridesmaids…
…and I was at the other station with Katie photographing the family groups with the grooms and groomsmen!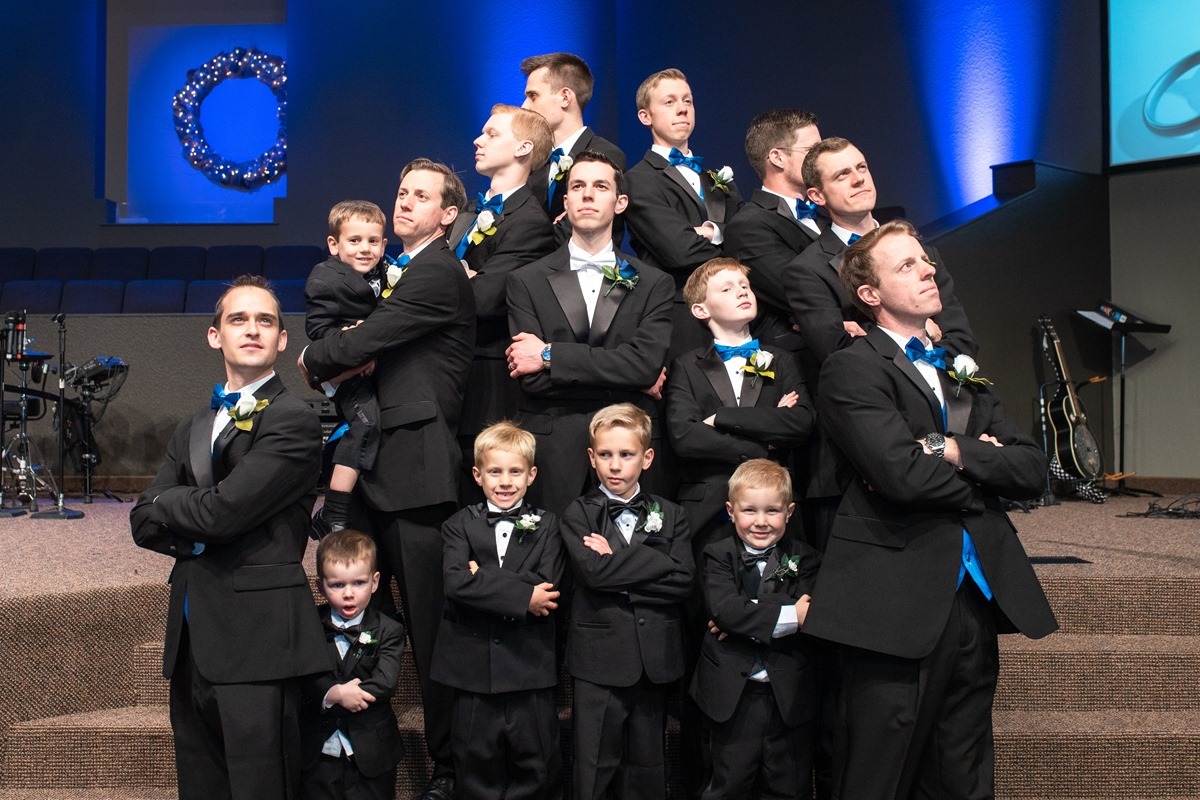 The big giant family photos and FEW Team photo were taken from the balcony.
And then the ceremony began!
I was assigned to shooting behind the scenes…
…and wide angle lens shots (imagine that….maybe I was landscape guy in the group
).
It was really interesting shooting three ceremonies back to back. Usually, I run through my list of shots as quickly as possible and there's just barely enough time to get the standard angles. This time, with three other photographers covering the ceremonies at the same time, I had more time to think through my shots. It was strange, though, because by the time the third ceremony rolled around, I had forgotten which shots I had taken for each ceremony and it was hard to make sure I was covering everything I was supposed to for each one! Wasn't hard to remember my traditional, end-of-ceremony up-close-stage wide-angle shot though.
Sometimes it works really great to get wide angle shots of the audience from on stage, so I tried that between one of the ceremonies. It may have been a good idea if I hadn't timed it just right to bump into and get in the way of and make it totally awkward for me and the poor ushers whose responsibility it was to replace the unity candles or whatever random thing they were doing up there on stage at the same time!
The last ceremony was probably my favorite. As it was beginning, I noticed that the first two brides were playing instruments up front (the Neely's are totally a musical family)…
…and it popped into my head that it might make a neat perspective to get a picture of the third bride walking down the isle with the first two framing her in the foreground. I stealthily moved into position just in time, and it would have been so perfect if the third bride had just stood still for a second (too bad it's not tradition that brides don't stop half way down the isle!). As the bride and her dad moved down the isle together, I had to keep moving too, to keep them positioned between the two brides in the foreground. And it was going pretty good. My adrenaline was rushing and I was like "yeah, this is the best perspective of the whole day!" until, BANG! I found myself stumbling backward over a cello that was sitting on the floor and I was like "yeah, this is the best embarrassing moment of the whole day!" And then to top it off, there happened to these ushers sitting, like, right there! I'm sure they think I'm crazy. And maybe that's because I am.
At least I got the picture, right!…
…with the videographer just in the perfect spot, too. Ugh! This next one would be my favorite shot of the entire triple wedding if it was actually in focus! Oh well, can't win every time I guess.
For all you musicians out there, I do want to make note that the "BANG" and "stumbling" were merely what it seemed like to me in "stealth mode". 🙂 Thankfully, the cello was alright (as far as I know) and my stumbling around was merely an attempt to regain my balance so I wouldn't step or fall onto it.
Anyway, with just a couple hour's of sleep the night before (coming in from Nashville was quite another story!) I was pretty tuckered out by the time the ceremony rolled around, so I took the opportunity to sit down, eat something, and talk to friends while Mary and the others kept the camera's clicking.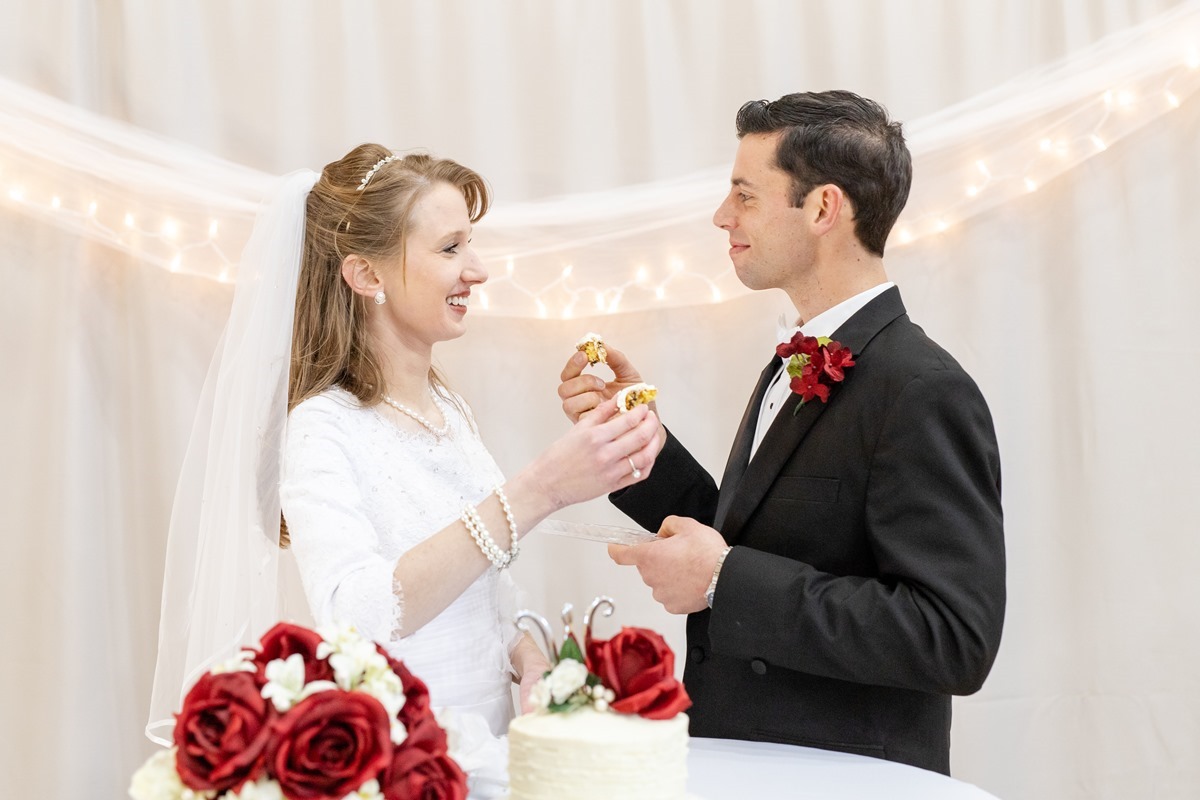 The rest of the day was sort of a blur for me, but I'll never forget the getaway. Thee jeeps as getaway cars is awesomeness!
Anyhow, the couple portraits were fun too; though since I was so brain fried by then, I was so grateful Mary and Katie, the portrait pros, were there to make sure there were actually some good couple photos taken.
And that last shot…wow! It was so neat to finally learn how the pros do shots like that! Mary wrote up a great explanation of how she shot that photo on the Pro Posing database, along with several other of her photos!
I did try to take a couple shots too.
"Let us be glad and rejoice, and give honour to Him: for the marriage of the Lamb is come, and His wife hath made herself ready…..Blessed are they which are called unto the marriage supper of the Lamb." Revelation 19:7,9