I was so excited when Pennsylvania State Representative Andrew Lewis said we could do a photo assignment for him! This could be a once-in-a-lifetime opportunity! And as such, not even a snowy day could keep me from shooting (or at least attempting to shoot!) some very specific, 4th-of-July-looking photos!
When I got the details for this assignment I thought, "Oh boy, this is going to be tough!" And I felt like procrastinating because I didn't know how to do it! However, I think I'm the kind of photographer who needs a vision of a picture in my head in order to have the motivation to go and shoot it. So, I sat down and thought through each of the three requested photo.
The idea that came to mind when I started thinking about the Independence Day, patriotic-love-of-country photo was "someone hanging up an American flag." I knew there was some place at home I could do this. And once I had this vision of a picture in my head, all I had to do was ask someone to go hang up the flag for me and shoot it! Suddenly, it felt very easy to do.
Turns out it wasn't as easy as I expected. But I just kept trying till I got something!
I could definitely use this one, but I feel like too much attention goes up to my brother's face. Since I'm shooting for a concept here, I intentionally wanted to make the photos more impersonal feeling.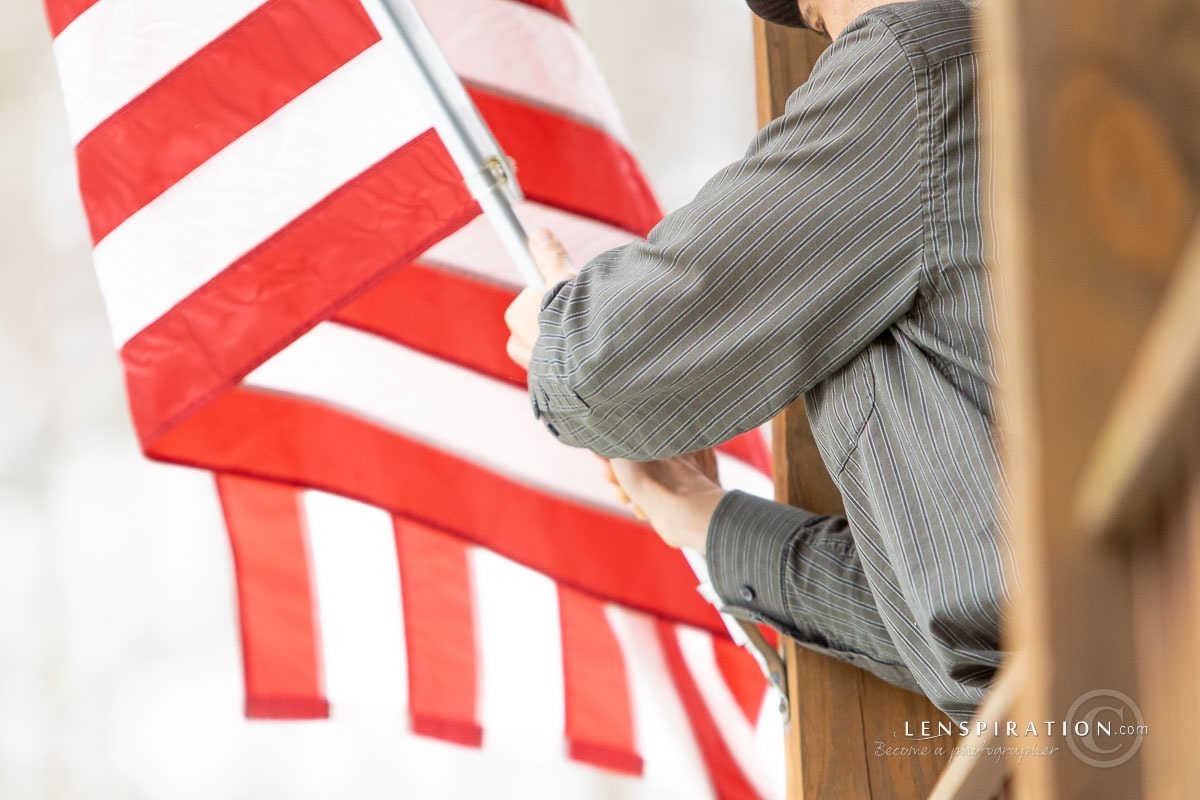 This one is better. I really like the folds in the flag. And it could definitely work. But the flag pole mount is not in focus, and his arm is kinda covering it up.
So I thought this one was pretty good! There's depth. And the red, white, and blue. I actually didn't tell him to hold the flag this way, he was just naturally unspinning it since the wind was blowing it all around. But I kept shooting because it was a naturally candid moment. And it happened to be just what looked good! I think the focus on the flag pole mount on the post tells the story of what is actually going on here.
But the visual merging of the mount with my brother's hand is less than ideal. So I cheated and moved the mount down in Photoshop.
Here's a little video that shows how I did that, 10x speed.
The Labor Day photo's emphasis was supposed to be on gratitude. "How would I depict gratitude?" The only thing I could think of was somebody like a boss shaking a hardworking American's hand. "And what would depict hardworking?" A lot of ideas came to mind, but they weren't practical for shooting at my house. It needed to be a professional, grown-up person doing some sort of official trade. Then the idea of someone holding a chainsaw popped into my head. I had a vision of a picture in my head now, and it was just a matter of enlisting help and shooting it!
I had to work this shot a lot too. My initial approach, with a telephoto lens, just wasn't getting what I was envisioning.
I understand now, in retrospect, that the compression that the telephoto lens was giving me was totally not helping me here. Both boss and worker are in focus. There's a huge emphasis on the shirts that they are wearing. The handshake isn't front and center. I have the nice creamy background that I looking for, but that's not the point of the picture. Plus, with lots of space between the camera and the subjects, you can see a lot more snow falling between me and them. Highlighting the falling snow isn't the point either.
Thankfully, I had the idea to change lenses. So much better!
I tweaked a couple things between shots, hoping to make it better, but looking back, the follow-up shots don't looks as good as the first wide-angle one. The follow-up shots don't show the handshake as prominently, and the boss feels like he's standing too far away, I think.
The third holiday I was supposed to illustrate was Memorial Day. But not just Memorial Day. "Gratitude for our fallen soldiers." Level one would be to go to a cemetery for a fun photo shoot. But I need to challenge myself. I wanted to see if I could take this to level two. "Hmm. How should I photograph this?" Nobody in my family is military or really has any military garb. "Oh, a photo with military personnel framed in a picture hanging on the wall!" Maybe it's a bad idea. But as an artist, I have to take the risk of what other people think about my ideas. So with that vision of a picture in my head, it was just a matter of setting it up and shooting it!
I'm glad Mom was willing to "model" for me. And I'm super glad it was super easy to recreate! This setup happened to be very easy. The two different hand placements, I'm not sure which one I like better. What do you think?
What a handsome guy! Nice choice, Mom.
Now It's Your Turn!
Though I took the more challenging route, you can take this assignment in whatever direction you want! Feel free to photograph for one, two, or all three of the requested holidays. If I can do it, you can do it! Details for the assignment are over on the forum at FEATURED: Photos of American Patriotism. Have fun! And may you not have to deal with snow in your pursuit of 4th-of-July-looking photos.