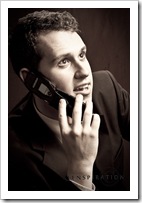 I thought I had it down to a science. After all, I'd covered many ATI Conferences now, and this was my third time in Nashville. It would be simple to cover the photojournalistic needs of this conference, right?
Well, not exactly simple. Perhaps I got the first level down to a science, but there sure are a whole lot more levels to discover! It's like climbing a mountain; each ridge gives you just enough perspective to see the next ridge up ahead. Looking in retrospect on the 2010 Regional ATI Conference, I can see how I've come to a new ridge in the important area of communication.
In the past, I've usually either been assigned to a certain task or have worked independently from the one organizing the conference photojournalism. Seldom have I been in the organizers position. That's what made this conference different.
To start out, I knew I needed to designate a photographer for each of the four student programs: ALERT Cadets, Children's Institute, COMMIT, and PreEXCEL. Because we were running short on photographers this year, I signed myself up for the first two programs and then assigned one part-time photographer to COMMIT and another to PreEXCEL. I thought we had the bases covered. We would shoot full time Wednesday and Thursday, leaving Friday morning for compiling the Friday afternoon program presentation slideshows.
The week flew by like a whirlwind. I was busy shooting my two programs as well as taking portraits, group shots, and general conference coverage. By Friday morning, everything was going as planned . . . except for one thing: I hadn't heard from the PreEXCEL photographer. So, I grabbed my cell phone and went outside to find some reception. It took a few tries, but I finally got in touch with her. She was elated to finally hear from me because she had tried many times before though unsuccessfully, due to the size of the conference and the lack of cell phone reception. Evidently, some unexpected things had come up and she was unable to shoot the program. What a shock this was to me! It wouldn't have been a problem if I had taken that extra time earlier to make communication happen on in the week. But now it was too late, and I was in a pickle.
I had a decision to make. Would I let this irritation steal my joy and cause me to become frustrated? Or would I mentally give the situation over to the Lord and let Him handle it in a way that would bring Him glory? Walking back inside, I didn't feel exactly joyful inside, but I had the assurance that God would get some glory out of the situation.
Thankfully, it didn't turn out to be as much of a pickle as I thought. Really! God came to the rescue and worked in supernatural ways to remedy the would-be sour situation, and despite the inconvenience, there was a slideshow for the presentation that afternoon. I wish the conference would have been a little more scientific, but I now have a piece of experience I will not soon forget:
Make the necessary effort, regardless how inconvenient, to stay in touch with those under your responsibility.