Something quite extraordinary happened to me the other day.
As I travel around the country, I inherently notice if there are other photographers around. Sometimes it feels kind of odd to be walking around airports with a camera-backpack and tripod as my carry-on items. You don't normally see folks like that. Or out in the field, especially at iconic locations. Sure, there are plenty of photographers, but I've encountered very few who are actually taking the time to set up a tripod and wait for the perfect light. I've met many photographers, but I had never met a "pro" . . . until Monday evening.
I was scouting around for CAPTURE North Carolina on the Blue Ridge Parkway stopping at all the overlooks to see which ones would be good to bring groups of photographers to for a sunrise or sunset. This was my first time traveling this particular section of the Parkway so I was keeping pretty good notes and I hadn't the slightest clue what would be around the next bend in the road. Internet research is great, but it only goes so far; there's nothing better than checking out a new location in person.
Well, when I reached the Cowee Mountains overlook, I was in for a pleasant surprise. You can see the highest point on the Parkway from this overlook, so as you can imagine, the overlook offered some sweeping views. You could see clearly to the west and south too, which I figured would make it a great spot for sunset.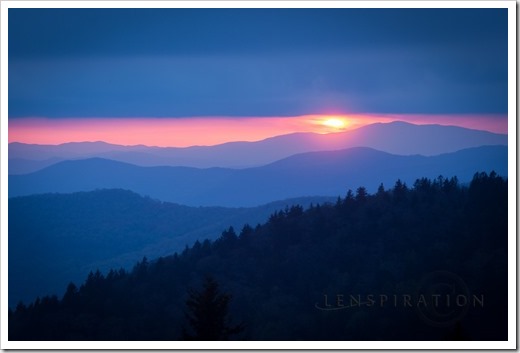 But what surprised me most was who I met there. There were two other photographers at the overlook, setting up for what we hoped would be a spectacular sunset. I pulled my camera out of the car and introduced myself to one of the photographers. He then introduced himself as Dave Allen. I couldn't believe it! Dave is a western North Carolina photographer who specializes in fine art landscape photography. I had been to his website several times as part of my "Internet research" and was inspired by his colorful and professional work. Never before in all my travels had I met a pro in the field that I already knew.
I took the opportunity to ask him a ton of questions about business and photography and ask for some image critique. How uniquely refreshing it is to get critique from someone with more experience than myself. Way more experience! If you haven't already visited his site, I suggest you take the time to swing by www.daveallenphotography.com. And it was neat to hear from him where the best spots are for photography along the Parkway too. A personal connection will certainly add a third dimension to my scouting endeavors!