January is always sort of a slow month for creating pictures for me. The landscape in West Virginia is usually just plain ugly: no greenery, gray skies, rainy days, slushy snow. It's especially boring when there's no snow at all. And even when there is snow, it's only really worth taking pictures of for a day or so, if not for a few hours, before the wind blows it off the branches or the sun comes out to eradicate it's essence of freshness. It's always cold too. Cold when it's rainy, cold when it's clear, cold when it's snowing. Taking pictures is most enjoyable when it's satisfying, and it just takes so much more work, creativity, time and thought to create something satisfying in January in West Virginia.
It's easier to stay inside and plan and wait. So I've spent a lot of time at the computer this month, writing for the forums, preparing a beginner course in photography, restructuring different things on Lenspiration.com and completing several graphic design projects.
But life at a desk gets tiresome without variety. So I do go outside and shoot when I have some time to spare and the conditions are right. Here's what I try to keep in mind while I'm shooting in January:
1. Shoot right after it snows
When it's fresh, it looks the best. And when the wind isn't blowing and the temperature hover under freezing, the snow will cling to the branches of trees for a short while after it snows. Shooting falling snow is a great option too: here's a great article on that. And purposely pushing your white balance to a cooler setting, can create a more wintery effect too, like I did in the shot of this barn.
2. Shoot for shapes
This is extremely helpful to keep in mind at a time of year or in a location where nothing seems to inspire you. Walking up the driveway on this dreary, melty day, the crescent shape of the trees beyond the field hidden by the mist stuck out to me. I'd never actually seen this shape before, in the hundreds of time I've been up and down the driveway. Shapes are often more abstract than they are material.
3. Shoot what's in season
The road out to my family's home can be quite treacherous in the winter, so when this unfortunate jeep found it's way off the road right next to our property, it made for a great subject. I don't have very many wrecked-car photos in my portfolio so it was a challenging experience to find a perspective that generated emotional impact. Whether I actually achieved that is debatable, but it was at least fun to try.
4. Focus in on details
This path through a field wouldn't normally stand out if there was no snow on the grass. Also, if you want to get really detailed, a member on the forums has developed a fascinating method for shooting snowflakes that's worth checking out: forum topic Let it Snow!
5. Match the subject with the surroundings
Look for old, grungy things to take pictures of up against the old, grungy looking backdrop. Shooting at sunrise, sunset, dusk or dawn doesn't hurt either. I found this rusted out truck on a farm right next to my Grandparents home. During a visit, I went across the street and ask the farmer if it would be fine if I walked around his place to see what I could find. While winter in West Virginia might be a tough time to create images, it helps that the people in West Virginia are super friendly (from my experiences at least) making it easier to find unique things to take pictures of.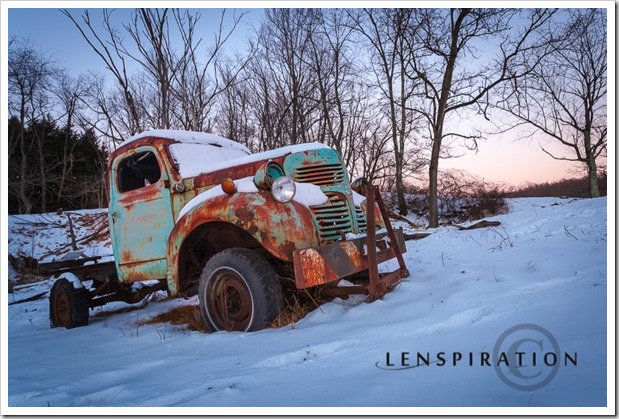 Send future blog posts straight to your email inbox!