A friend of mine (you probably know him too, the photography geek @dfrazer who always has the greatest of answers on the forums) shared with me how he shot his family photo, and I thought it would be fun to share it with you too.
As a caveat, he starts by saying . . .
"I thought this setup shows what can be done even on a budget . . . a lot of the time people who are starting up don't even think of controlling the light. (Ever been in a studio to see all the lights, reflectors, etc. they have?) Good lighting is always an element of what makes a photo great, whether we realize it or not. So, I think there should be a section on lighting in every beginners photography course. Having said that, I don't think I nailed it on this photo, but if this helps feel free to use it."
But then he moves on into the behind the scenes . . .
"Erica arranged the people on three different heights of stools to get the overall shape right. She also got me to set up and do my practice shots before lunch, and waited until after lunch when the kids are happier to take the actual photo. We found that as time goes on during the photo session the expressions on the adults gets better and the expressions on the children gets worse. We also put the camera in live view mode and set up a screen showing what the camera was seeing to help keep the children looking in that general direction. And the stuffed animal on the camera's flash controller was her touch, too. So a lot of the credit goes to Erica.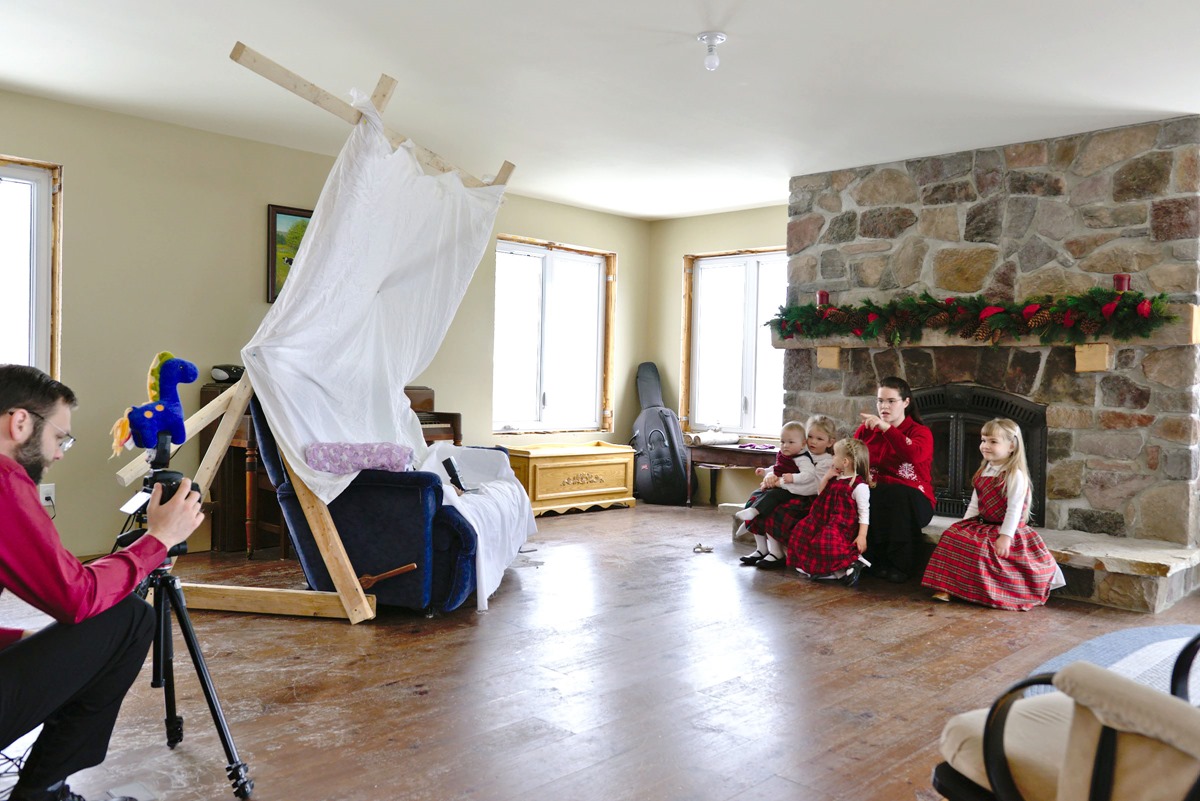 "I put the camera in manual mode at f/4.8, 1/60, ISO 400 with my 50mm f/1.8 prime. I find that going below f/4 of full frame doesn't get everyone in focus. Equivalent on a crop body would have been f/3.3 and ISO 200. And back up or use a 35 prime. As I was to be in the photo, I set the camera to 10 second delay start and then take 10 photos 1 second apart. I did so nine times, and of the 90 photos the one attached was the best. No Photoshop this time. 🙂
"There was a lot of light coming in through the windows on both sides of the fireplace, but especially on camera right (stage left), so I used a single flash bounced off some old white fabric held up by some left-over construction materials, and that became a nice big (6ft x 6ft) key light on camera left.
"I had the flash around 1/4 to 1/2 power with a 1/4 CTO gel to balance the colour with the light coming in the windows. Expense-wise for most beginning photographers, I had a $125 flash setup."
Setup with no flash
Unedited
Edited, final 8×10